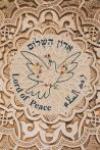 תקציר
Lord of peace: a prayer book for peace according to Jewish, Christian and Islamic tradition : to pray to the lord of peace daily, morning and evening may all who use it be merry and in good heart
Not by might, nor by power, but by My spirit, saith the LORD of hosts (Zechariah 4: 6). It is privilege and a thrill to present to you Lord of Peace, a prayer book for peace according to the Jewish, Christian, and Islamic tradition. This prayer book was born out of years of spiritual inter-faith dialogue for peace initiated by Derekh Avraham, the Israeli Sufi Path, led by
myself and my comrades in peace, Rabbi Roberto Arbib and Shaikh Ghassan Manasra. Renew our days as of old (Lamentations 5: 21). Lord of Peace
echoes the dialectics between conservatism and revolution. Its prayers have been selected conservatively, most of them being flowers picked from the colorful garden nurtured by the three religions in times past. However, it is revolutionary in the history of religions and is in a way unparalleled by any historical precedent. What is revolutionary about the prayer book you hold, however, is that it includes a collection of prayers for peace routinely offered by the sons and daughters of the three monotheistic religious traditions: Judaism, Christianity, and Islam.
For whom the LORD loveth he correcteth (Proverbs 3: 12). Great love do I bear for righteous, orthodox people of all three Abrahamic religions. But this love shall not hold me back from giving voice to my rage against the falsity, the void to which I bear witness these days.
The Talmud says, "He who studies the Law for the honor of God, his knowledge becomes to him the elixir of life [...] but he who studies the Law, not for the honor of God, his knowledge becomes to him a deadly poison." (Babylonian Talmūd, Ta'anīt, trans. M.L. Rodkinson.)
But I say unto you, Love your enemies, bless them that curse you, do good to them that hate you, and pray for them who despitefully use you, and persecute you; That you may be the children of your Father who is in heaven: for he makes his sun to rise on the evil and on the good, and sends rain on the just and on the unjust.
(Matthew 5: 44-45)
 Seek peace, and pursue it.
(Psalms 34, 15)
Certainly, there has come to you a light from Allah, and a manifest Book. With it Allah guides those who follow [the course of] His pleasure to the ways of peace, and brings them out from darkness into light by His will, and guides them to a straight path
(Sūrat al-Māʾidah 5: 15-16)
Last Updated Date : 08/11/2016